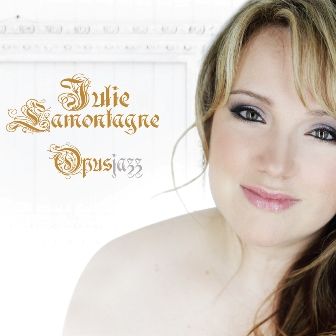 | UPC | REF# | Price |
| --- | --- | --- |
| 068944857029 | JTR 8570 | 15 |
Opus Jazz
Julie Lamontagne
Label : JTR // Piano , Jazz // 2012-01-31
Also available on iTunes: http://itunes.apple.c...
Also available on iTunes:
http://itunes.apple.com/ca/album/opus-jazz/id486544821
Julie's latest album finds her alone with her piano, revisiting favourite pieces from the classical music repertoire. In a selection ranging from Rachmaninoff and Debussy to Bach, Ravel, Chopin, Handel, Brahms, Fauré and André Mathieu, Julie achieves musical cohesion between her current jazz environment and the classical world of her youth.

Reflecting her intensity, drive and undeniable creativity, these arrangements (sometimes surprising but always sweet) reveal true depth and amazing dexterity.
Born of her wide and varied musical knowledge, this third album represents another step on the road to success for this already highly accomplished musician. It provides definitive proof that she is one of the most brilliant pianists in Québec today, one whom reviewers already see as a member of Québec's jazz elite.
Tracks:
| | | |
| --- | --- | --- |
| 01 | L'eveil | 5:54 |
| | Your browser does not support the HTML5 Audio element. | |
| 02 | Waltz for Fred | 3:08 |
| | Your browser does not support the HTML5 Audio element. | |
| 03 | Prelude Lac d'argent | 5:30 |
| | Your browser does not support the HTML5 Audio element. | |
| 04 | Chopinerie | 6:15 |
| 05 | Prelude Romantique | 5:52 |
| 06 | Rachmania | 5:20 |
| 07 | L'Hymne de Mr. H | 2:40 |
| | Your browser does not support the HTML5 Audio element. | |
| 08 | Trilogie coloree: Dore | 2:40 |
| 09 | Trilogie Coloree: Violet | 3:34 |
| 10 | Trilogie Coloree: Jaune | 3:07 |
| 11 | L'aria de la Defunte | 4:36 |