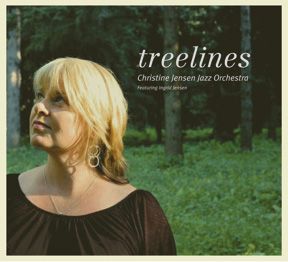 | UPC | REF# | Price |
| --- | --- | --- |
| 068944855926 | JTR 8559 | 15 |
Treelines
Christine Jensen
Label : JTR // Jazz // 2010-02-16
"While she's influenced by the lavish a...
"While she's influenced by the lavish and sensual arrangements of Maria Schneider and Gil Evans, Christine adds something deeper and often darker to the mix."…full of amazing changes and charts where solos were an outgrowth of the innovative compositions..." Juan Rodriguez, The Montreal Gazette
Christine Jensen is excited to present new works with her 18-piece jazz orchestra, featuring some of Canada's most progressive improvising musicians, including Martin Auguste (drums), Chet Doxas, Joel Miller, Eric Hove (saxophones), Jean-Nicolas Trottier, David Grott (trombones), Steve Amirault (piano), Fraser Hollins (bass) and Jocelyn Couture (trumpet), along with Ingrid Jensen as guest soloist. Jensen's compositions focus on subjects that attempt to depict the spirit of Canada's pristine environment. While she has devoted her time to producing and touring her quartet internationally over the past ten years, she has continually augmented her music at home, transporting her compositions through the use of her orchestra - A homage to Canada's environment, this unique project is certain to garner praise for it's timely and important subtext: protecting the unique forests of our magnificent country.
https://www.youtube.com/watch?v=ljDQoTwdo-Q
Tracks:
| | | |
| --- | --- | --- |
| 01 | Dancing Sunlight | 11:20 |
| | Your browser does not support the HTML5 Audio element. | |
| 02 | Arbutus | 6:51 |
| 03 | Red Cedar | 9:53 |
| 04 | Western Yew | 10:55 |
| | Your browser does not support the HTML5 Audio element. | |
| 05 | Dropoff | 9:10 |
| 06 | Dark and Stormy Blues | 9:23 |
| 07 | Seafever | 7:05 |
| 08 | Vernal Suite | 9:28 |
| | Your browser does not support the HTML5 Audio element. | |