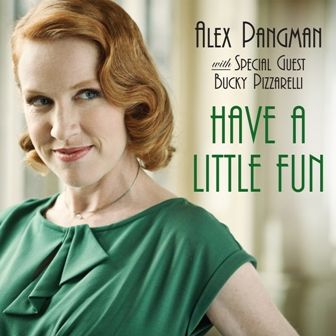 | UPC | REF# | Price |
| --- | --- | --- |
| 068944857821 | JTR 8578 | 15 |
Have A Little Fun
Alex Pangman
Label : JTR // Vocal , Swing , Jazz // 2013-03-26
Available on iTunes: https://itunes.apple.com/u...
Available on iTunes:
https://itunes.apple.com/us/album/have-a-little-fun/id606966413
Have A Little Fun is a collection of tunes about the human condition… songs about love, happiness, loss, yearning, deception, forgiveness and confusion. Joining vocalist extraordinaire Alex Pangman on much of this project, is the incomparable Bucky Pizzarelli, a guitarist who's worked with everyone from Benny Goodman, to Les Paul, to Stephane Grappelli, "Bucky is 'the real deal.' He's a charming man who with open arms welcomed me to his musical world, and when he starts to strum, you pay attention. He's like an entire rhythm section." Alex's stalwart band The Alleycats make up the rest of this disc, with the shining addition of Brigham Phillips on trumpet. Included here are a few of Alex's own originals in the 1930s style. Of note is The Fog Song, which features the great Laurie Bower on mournful trombone and Melancholy Lullaby. Great classic songs from a bygone era are also included - such as Stardust, I'm Confessin', and Undecided, to name a few. These are the songs that got Alex hooked on this wonderful era of music.
Tracks:
| | | |
| --- | --- | --- |
| 01 | Some of These Days | 2:17 |
| | Your browser does not support the HTML5 Audio element. | |
| 02 | Are You Having Any Fun | 2:23 |
| | Your browser does not support the HTML5 Audio element. | |
| 03 | The Fog Song | 4:15 |
| | Your browser does not support the HTML5 Audio element. | |
| 04 | The Panic Is On | 3:37 |
| | Your browser does not support the HTML5 Audio element. | |
| 05 | I'm Confessin' That I Love You | 3:01 |
| 06 | If Felt So Good To Be So Bad | 3:51 |
| 07 | Just One More Chance | 3:06 |
| 08 | Shanghai Lil | 4:12 |
| 09 | Out of Nowhere | 4:26 |
| 10 | Stardust | 3:55 |
| 11 | Melancholy Lullaby | 3:25 |
| 12 | Topsy Turvy | 3:23 |
| 13 | Undecided | 2:49 |
| 14 | Intro Some of These Days | 0:30 |