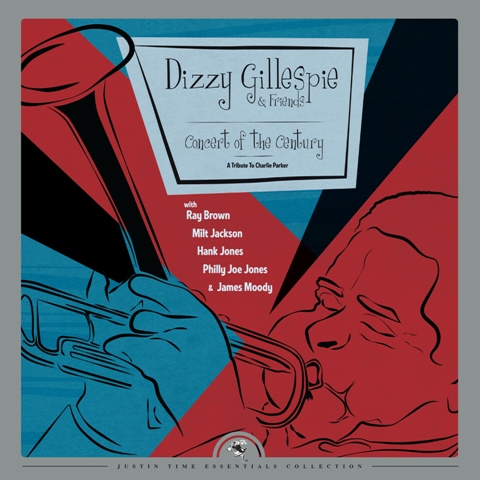 | UPC | REF# | Price |
| --- | --- | --- |
| 068944025916 | JUST 259-1 | 36 |
Concert Of The Century - A Tribute To Charlie Parker
Dizzy Gillespie
Label : JUST // Jazz // 2016-11-11
- FIRST TIME AVAILABLE ON WIDE RELEASE VINYL AND C...
- FIRST TIME AVAILABLE ON WIDE RELEASE VINYL AND CD
- PRISTINELY RESTORED 1980 LIVE RECORDING IN MONTREAL
- 6 OF THE GREATEST JAZZ LEGENDS IN THEIR PRIME
- 180 GRAM AUDIOPHILE 2LP VINYL WITH GATEFOLD
On a cold November evening in 1980, 3000 jazz fans filled the Salle Wilfrid Pelletier Hall of Place des Arts in Montreal, Quebec to attend what promised to be, a swinging evening featuring six of the biggest names in bebop. Billed The Concert of the Century - A Tribute to Charlie Parker, and under the direction of Dizzy Gillespie - one of the best jazz trumpeters of all time - the event featured legendary performers: Hank Jones – piano, Ray Brown – bass, Milt Jackson – vibes, Philly Joe Jones – drums and James Moody on tenor sax and flute. Local club owner Roue Doudou Boicel, who produced the concert, had the foresight to record the concert in its entirety. A limited quantity bootleg LP of the concert soon appeared and then disappeared from the market place; those tapes lay dormant for over 30 years.
This historic recording opens with rapturous applause that sets the tone with Dizzy's own 'Blue 'n' Boogie.' Also featured are several classic standards – some more well known then others – including 'Darben The Redd Foxx,' 'Time On My Hands,' 'Get Happy,' 'The Shadow Of Your Smile' and 'Stardust.' All the players are at the top of their game and having a blast, as evidenced by the banter and repartee between songs.
Concert of the Century, pristinely restored and remastered, features two tracks that weren't on the original pressing from the early '80s - Ralph Rainger's 'If I Should Lose You' and an incredible eight minute bass solo by Ray Brown.
Tracks:
Side A
| | | |
| --- | --- | --- |
| 01 | Blue 'n' Boogie | 10:57 |
| 02 | If I Should Lose You | 05:54 |
Side B
| | | |
| --- | --- | --- |
| 01 | Darben The Red Foxx | 05:46 |
| 02 | Time On My Hands | 08:14 |
Side C
| | | |
| --- | --- | --- |
| 01 | Get Happy | 06:58 |
| 02 | The Shadow Of Your Smile | 10:20 |
Side D
| | | |
| --- | --- | --- |
| 01 | Bass Solo/Manhã de Carnaval/Work Song | 07:58 |
| 02 | Stardust | 04:06 |