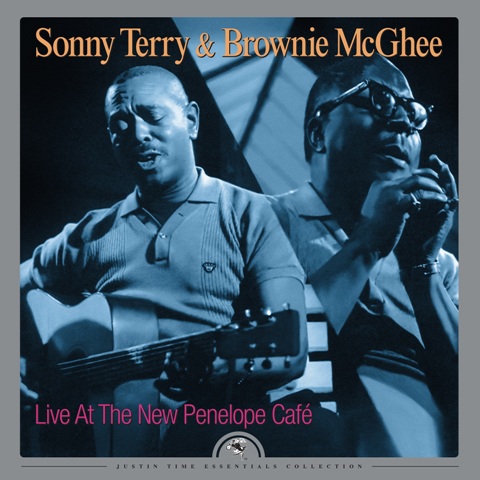 | UPC | REF# | Price |
| --- | --- | --- |
| 068944913114 | JAM 9131-1 | 29 |
Live At The New Penelope Café
Sonny Terry & Brownie McGhee
Label : JAM // Blues // 2016-10-14
Remastered rare recording from the Justin Time Ess...
Remastered rare recording from the Justin Time Essentials Collection
Deluxe gatefold LP package features 180 gram vinyl
Available for the first time on vinyl, Live At The New Penelope Café, recorded in Montreal in 1967, showcases the legendary folk/blues duo in unusually lively form.
It's possible that the duo weren't even thinking about the fact that they were being recorded which resulted in a less stiff and formal performance than they could sometimes deliver when playing in front of white collegiate audiences.
The result is a record a bit louder and noisier, but also more exciting than most of their other live albums – the voices mesh together a bit rougher and more honestly than they do on some of their other live releases. The sound is clean mono, with the audience present but not overly obtrusive.
Tracks:
Side A
| | | |
| --- | --- | --- |
| 01 | Horray Horray (These Women Is Killing Me) | 04:41 |
| 02 | Cornbread, Peas And Black Molasses | 04:58 |
| 03 | Sportin' Life | 04:49 |
| 04 | Come On If You're Coming | 05:33 |
Side B
| | | |
| --- | --- | --- |
| 01 | Born WIth The Blues | 04:40 |
| 02 | Easy Rider | 03:15 |
| 03 | Hootin' The Blues | 03:53 |
| 04 | Under Your Hood | 04:25 |